Endotracheal Lidocaine Applicator (ELA)
Device to deliver lidocaine to the trachea.
Design Award
Tong Biomedical Design Award Winner
News About this Project
Company: STELA Medical, LLC: Selectable Endotracheal Lidocaine Applicator (2014)
Grant: Inaugural MadWorks Initiative (2014)
News: Anesthesia Applicator Device Wins Perkins Coie's $10,000 Award at University of Wisconsin-Madison 2014 Innovative Minds Challenge (May 19, 2014)
Award: 1st Place, Innovative Minds Perkins Coie's Award (May 9, 2014)
Award: 2nd Place, G. Steven Burrill Business Plan (April 2014)
Presentation: A Universal Selectable Endotracheal Lidocaine Applicator, Poster, Society for Airway Management (SAM) annual meeting, Philadelphia (September 21, 2013)
Project Overview
The placement of an endotracheal tube for airway maintenance during general anesthesia and its presence during emergence can result in adverse patient effects, including hypertension, tachycardia, tachyarrhythmia, increased intracranial and intraocular pressures, coughing, and oropharyngolaryngeal complaints (e.g. sore throat). The topical application of tracheal lidocaine reduces the incidence and severity of these events. Current applicators, however, are not ideal for use with recently developed videolaryngoscopy systems/devices. Our goal is to design a lidocaine applicator that can be used along with current technology and satisfy client requirements.
Team Picture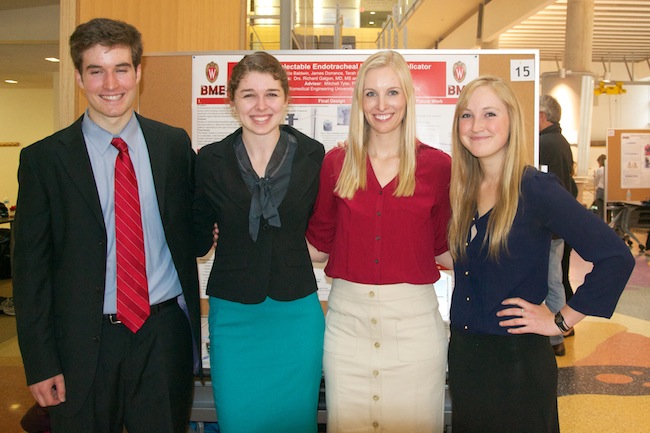 Contact Information
Team Members
Terah Hennick, BME 301 - Team Leader
Katherine Baldwin, BME 301 - Communicator
Alyssa Mitchell, BME 301 - BSAC
James Dorrance, BME 301 - BWIG
Advisor and Client
Mitchell Tyler - Advisor
Dr. Richard Galgon - Client
Dr. George Arndt - Alternate Contact
Related Projects
Spring 2013: Endotracheal Lidocaine Applicator (ELA)