Infant Delivery Device for Vaginal Delivery
Design Award
Tong Biomedical Design Award Winner
Project Overview
Childbirth is the number one reason for hospitalization in the United States, accounting for over $16 billion in U.S. hospital costs each year. Of the 4.2 million deliveries, 140,000 require assistive vaginal delivery techniques due to prolonged labor [1]. Prolonged labor is considered high risk causing complications and elevated risks of neonatal brain trauma, injury, and death. Assisted vaginal delivery may be employed to help expedite the labor process [2].

Currently, assistive techniques utilize either forceps or ventouse. Both devices have a high infant delivery success rate; however, assisted delivery also has the highest injury rate of all deliveries [1]. Forceps-assisted delivery is associated with lacerations and excessive blood loss to the mother, as well as superficial injuries to the infant [2][3]. Ventouse, also known as vacuum-assisted delivery, often leads to bruising and cranial deformations to the infant, and increases the risk of neonatal intracranial hemorrhaging and subgaleal hematoma [4].

A cylindrical, helically woven extraction device that decreases radially when lengthened was fabricated. As it is elongated, the tightening applies a minimal, evenly distributed force around the head allowing for a safer delivery. An applicator was also designed in order to increase extractor usability. The applicator contains six prongs that are oriented along the woven extractor strips, and are flexible to accommodate various head sizes. Additionally, six rectangular pockets were added to the strips of the extractor for attachment of the applicator.

In order to compare the designed woven extractor with the current devices, SolidWorks FEA Static Simulations were performed on a fetal head model for loading conditions corresponding to the woven extractor, forceps, and vacuum extractor. The simulations concluded that the increased contact area of the woven extractor reduces the stresses, strains, and deformations on the head, which is supported by analytical calculations.

In order to improve the FEA simulations, closer estimations to the actual contact area should be used, as well as, a more anatomically correct SolidWorks fetal head model. Traction forces should also be considered. Further testing needs to be completed to evaluate the efficacy and safety of the extractor and applicator. This will be done via an experimental setup utilizing a model birth canal and infant.

[1] Podulka, J., Stranges, E., Steiner, C. (2008). Statistical Brief #110. Healthcare Cost and Utilization Project, April 2011. Agency for Healthcare and Research Quality.
[2] O'Grady, J. P., Pope, C. S., & Hoffman, D. E. (2002). Forceps Delivery. Best Practice & Research Clinical Obstetrics and Gynecology, 16 (1), 1-16.
[3] Johanson, R.B. & Menon, V. (2000). Vacuum Extraction versus forceps for assisted vaginal delivery. Cochrane Database System Review.
[4] Ekeus, C., Hogberg, U., & Norman, M. (2014). Vacuum assisted birth and risk for cerebral complications in term newborn infants: a population-based cohort study. BMC Pregnancy and Childbirth, 14 (36).
Team Picture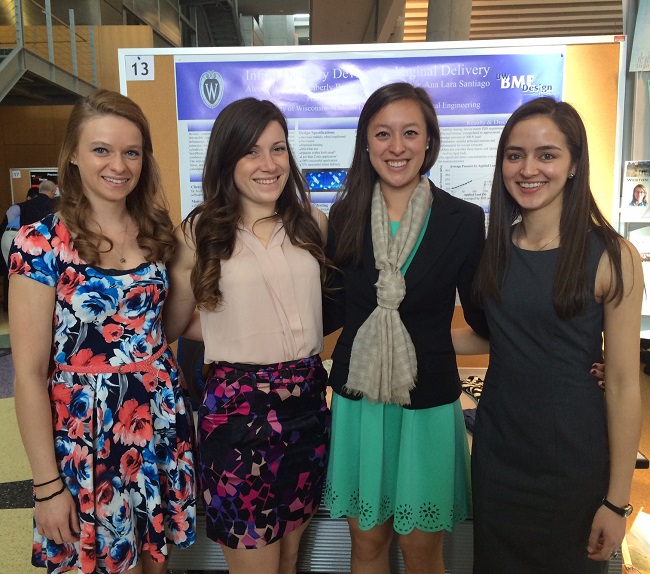 Contact Information
Team Members
Alenna Beroza, BME 402 - Team Leader
Ana Lara Santiago, BME 402 - Communicator
Emily Junger, BME 402 - BSAC
Kimberly Buchanan, BME 402 - BWIG & BPAG
Advisor and Client
Dr. Joseph Towles - Advisor
Dr. Jay Lick - Client
Related Projects
Spring 2015: Infant Delivery Device for Vaginal Delivery