Device to monitor and quantify early hypovolemia due to hemorrhage
Design Award
Design Excellence Award Honorable Mention
Project Overview
Simplex Scientific LLC (Simplex) is developing a medical device that can accurately measure hypovolemia due to hemorrhage from trauma which can lead to shock and ultimately death and which will be suitable for deployment at civilian and military trauma sites and during transport where motion-induced artifacts interfere with conventional technologies. Early warning of the extent of hypovolemia can improve treatment response times to prevent hemorrhagic shock, thus saving lives and preventing morbidity and mortality, while reducing treatment costs. There is an urgent need for a reliable, rapid, easy-to-use hypovolemia detector at the trauma site and during medical transport.

This project was just funded by NIH and required IRB approval. The project should end by May of 2015.

The team will be designing and will be building a Lower Body Negative Pressure (LBNP) chamber to simulate hemorrhage. In March we will use 30 human subjects to test the method investigated by Simplex using the LBNP chamber.
Team Picture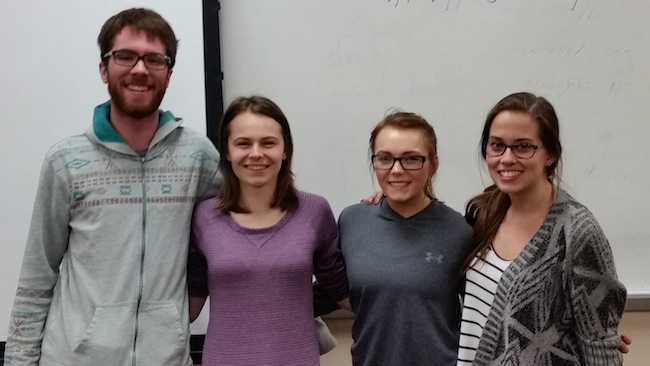 Contact Information
Team Members
Bailey Flanigan, BME 301 - Team Leader
Olivia Velazquez, BME 301 - Communicator
Nicolaas Angenent-Mari, BME 301 - BSAC & BWIG
Micaella Poehler, BME 301 - BPAG
Advisor and Client
Prof. John Webster - Advisor
Dr. Dennis Bahr - Client