Microfluidic Device to Competitively Measure Biofilm Dispersion Potential
Quantify biofilm dispersion in a fungal infection in vitro setting.
News About this Project
Project Overview
The dispersion of cells from biofilms allows fungi to relocate and seed new locations, often in infectious manners, making dispersion one of the most malevolent aspects of a biofilm complication. Invasive medical devices, such as central venous catheters, can easily be colonized by such biofilms; 80-90% of these infections are caused by a particular fungal species, Candida albicans. 21-32% of patients infected with C. albicans do not survive the infection. The goal of this project is to design and test a device (or devices) where multiple biofilms may be cultured and their dispersion potential competitively monitored in an array of channels. The device should allow the biofilm to be exposed to different environmental conditions such as nutrient depletion or anti-fungal drugs, so that the effect of the environment on biofilm dispersion may be tested quantifiably. Different mutant strains/patients samples can be tested using this platform to establish clinical relevance.
Team Picture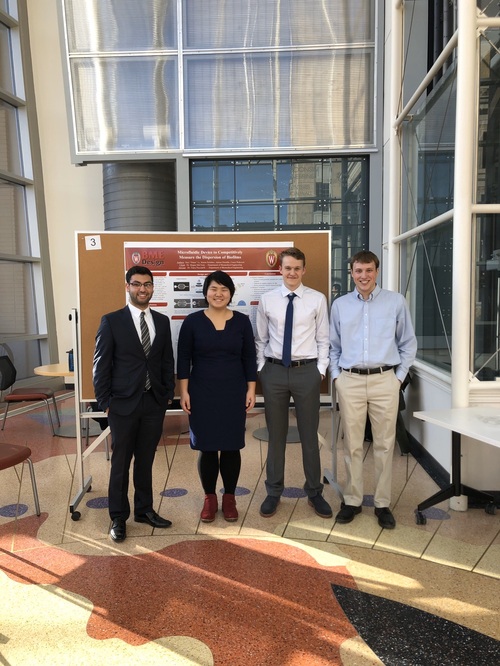 Contact Information
Team Members
Grace Li, BME 402 - Team Leader
Adrian Omidfar, BME 402 - Communicator
Conor Pedersen, BME 402 - BSAC & BWIG
Simon Schirber, BME 402 - BPAG
Advisor and Client
Dr. Tracy Jane Puccinelli - Advisor
Prof. Megan McClean - Client
Stephanie Geller - Alternate Contact
Related Projects