JangoBio: Designing single and multi spinner flasks for organoid culture
Cell culturing vessel that suspends organoids in culture using acoustic waves in collaboration with JangoBio, a biotechnology company investigating regenerative stem cell therapies in Madison.
Design Award
Design Excellence Award Winner
Project Overview
Organoids are small, three-dimensional cell cultured structures that have the capabilities to mimic a variety of organs. The use of organoids has been acquired as being a viable component in medical research and health treatment development. Current methods of culturing organoids require the use of well-designed, spinning culture vessels to facilitate their formation from isolated stem cells. There as been the development of many types of spinner flasks and bioreactors that can be used for cell culturing. However, the majority of these devices are either too expensive, not well suited for smaller-scale research purposes, non-reusable or restrictive in control. Therefore, there is a need to develop a small volume, multi-well, system that is reusable, inexpensive, and has modular capabilities for individual well control. In addition, most designs on the market mechanically rotate the culture fluid by magnetic stir bars or similar techniques. Although mechanical methods are popular, there is a risk of adverse effects on the cells and organoids. To prevent these undesired effects, research has been conducted to determine the capabilities of using acoustic waves to spin the culture fluid instead. This idea of using "acoustofluidic" techniques instead of mechanical techniques generates a market opportunity to create a novel spinning bioreactor that uses acoustic waves to rotate the culture media. The project will be working alongside JangoBio, a regenerative stem cell company, with the interest of developing this multi-well acoustofluidic spinner flask.
Team Picture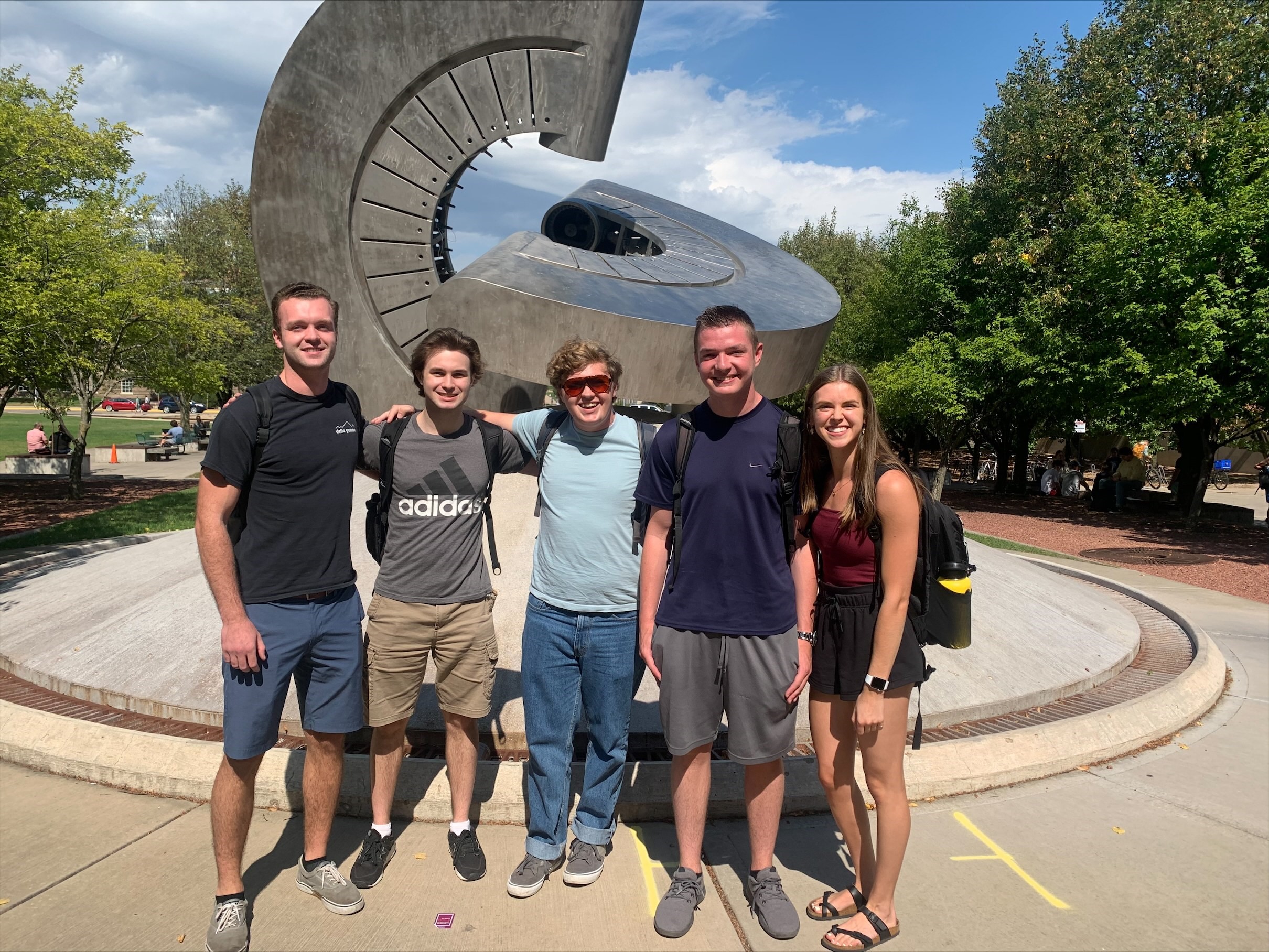 Contact Information
Team Members
Max Christopherson, BME 402 - Team Leader
Sydney Heimer, BME 402 - Communicator
Christopher Wiegand, BME 402 - BSAC
Jonathan Izban, BME 402 - BWIG
Matthew Voigt, BME 402 - BPAG
Advisor and Client
Dr. Paul Campagnola - Advisor
Dr. Craig Atwood - Client
Sivan Vadakkadath Meethal - Alternate Contact
Related Projects
Spring 2022: JangoBio: Designing single and multi spinner flasks for organoid culture